Hydraulic Trim Tab Kits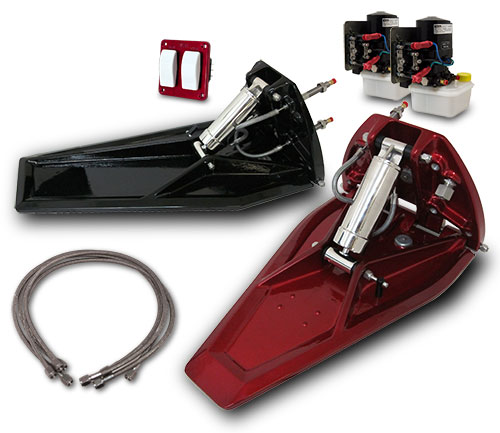 Mayfair Hydraulic's After-Planes are the very best, yet reasonably priced hydraulic trim tabs on the marine market today. Here are some of the features: Unlike other planing devices Mayfair Hydraulics After-Planes are manufactured from premium quality high strength aluminum alloy castings with deep-ribbed cross sections for additional strength and stress distribution. All of the external hardware is 316L series stainless steel or is powder coated for increased corrosion resistance. The Transom stainless steel connections are an integral part of the Mayfair Hydraulics After-Planes, eliminating costly and bulky brackets and fittings. This results in a simpler, faster, and cleaner installation.
Each Mayfair Hydraulics After-Plane can be independently operated by dash-mounted controls that are included with the standard package. Because of the unique hydraulic system, there is no "droop" due to hydraulic leakage. The After-Planes will remain locked until the controls are again actuated. Mayfair Hydraulics After-Planes offer substantial advantages in performance, fuel economy, stability and handling. All Mayfair Hydraulics After-Plane Kits are supplied with two hydraulic pumps with heavy-duty mounting brackets, switch panel and all trim hoses and all necessary hardware for installation. Tabs and control panels are available in various standard powder coated colors.
---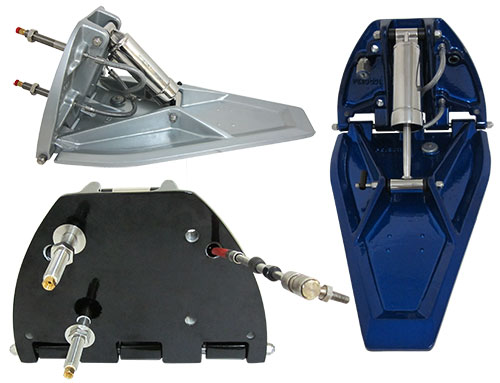 Mayfair Trim Tabs and Accessories
Click Here for More Info and Parts Breakdown on the 22″ Version.
Click Here for More Info and Parts Breakdown on the 28″ Version.
---
Production and Testing Photos: