Hydraulic Steering Kits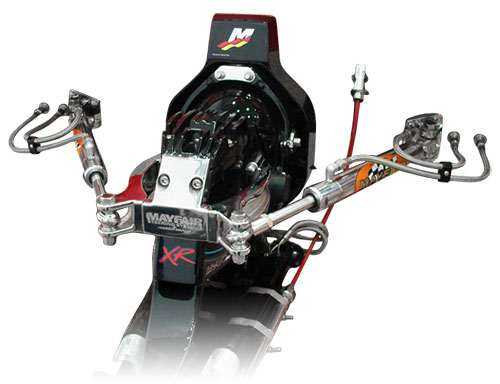 Mayfair by Hardin Marine's Innovation has once again brought to the performance powerboat and recreational sport boat industry a steering revelation with its all new modular wing plate steering systems. By using 21st century manufacturing techniques Mayfair by Hardin Marine has developed a superior 316L stainless steel modular wing plate steering mount. This wing plate steering mount design incorporates dual side links and a single rear load cap that bolts together forming a strong, bridge like cradle that provides the ability to mount the wing plate to the boats key attachment points. The rear load cap captures the outdrives rear end cap while the side links attach to the outdrives four mounting points at the Gimbal housing. This arrangement gives additional support for even tighter, firmer steering control. Best of all there is no dis-assembly of your outdrives rear end cap (Voids Factory Warranties) and these new systems fit all generations of Bravo outdrives including the new "Slope Back" style. Generally speaking, it is recommended to use external power steering on boats which run in excess of 70 MPH, however there are some boats that run 60 MPH that would benefit from the use of external power steering.
There has never been more options, more choices, and more ways to save than ever before on the purchase of a new hydraulic steering system. We are constantly asked which system is "best" and "why"? Well, all of the systems listed here are of the very best in quality. What separates them in many cases is very minor features such as fitment options or how complete the kit is. Some manufacturers provide the bare minimum and skimp on quality through the use of possibly rubber lines, aluminum components instead of stainless steel, etc. At the end of the day what makes a great steering system is "Value" all of these systems will meet your needs some will just leave a big chunk of your money ($$$$) still in your wallet. Compare and save "NO ONE" can save you more money on your new steering system than we can, try us the answers are crystal clear.
---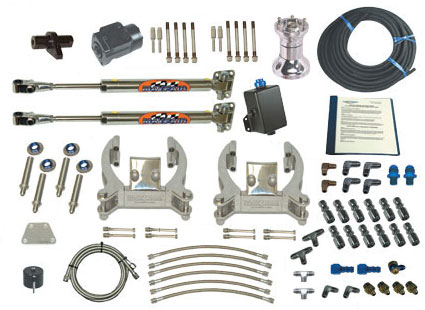 Full Hydraulic Kits
---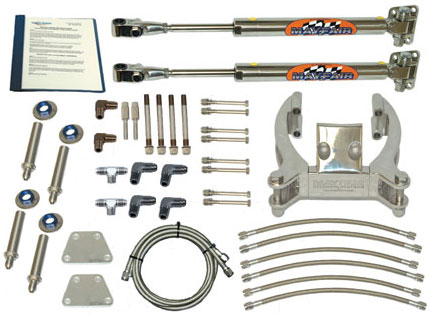 Add-On Hydraulic Kits
---
Hydraulic Steering Posts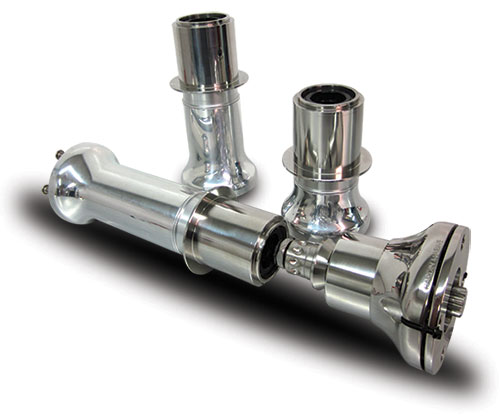 If you've been fortunate enough to see inside some of the most elite powerboats in the world toady such as Nor-Tec and Outerlimits, then you've probably noticed the ultra-cool dual switachble hidden helms they have.  Mayfair Performance developed this system with two thoughts in mind.  First, dual helm steering systems up to now used two mounted steering posts fixed to both sides of the dash.  When one wasn't being used it stuck out of the dash as a safety hazard similar to a human harpoon.  By relocating the steering post beneath the surface of the dash and covering it with a smooth billet cap you now have a part that is worthy of existence on a million dollar boat. Secondly, the easy removal of the steering wheel allows it to be stowed and locked beneath the cabin. No steering wheel, means less chance of your boat being stolen.
Mayfair offer high quality standard hydraulic steering posts in various lengths as well. The construction of these race inspired billet aluminum helms feature an adjustable slip collar to accommodate different dash thicknesses while providing the ultimate in finished appearance.  These steering posts bolt directly to a Char-Lynn hydraulic helm.  Available in a dual steering wheel 6-bolt patterns (Momo and Dino) or a conventional 3-bolt pattern, allowing the use of adapters.  Length from the dash to the steering wheel mounting flange based on a 1″ thick dash. Center steering wheel covers are sold separately.
---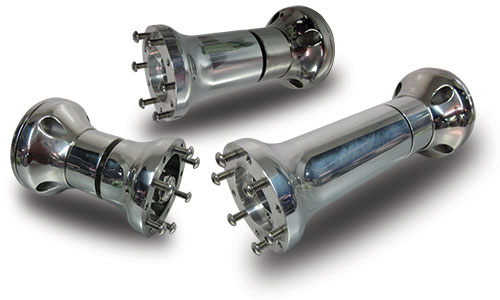 Hydraulic Steering Posts
---
Custom Tie Bars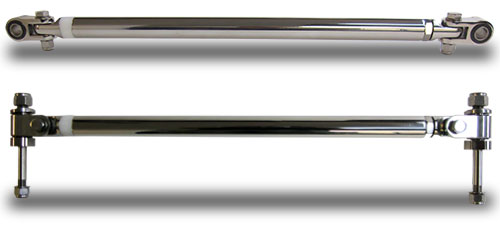 Mayfair custom builds all of its tie bars from the highest quality 316L stainless tell. All tie bars are custom made to the center to center drive dimension you specify. Measure the distance from prop shaft to prop shaft and insert it in the box below. Clevis ends are machined from billet 316L stainless steel, no inexpensive castings are used in keeping with the high quality traditions of Mayfair by Hardin Marine! Mayfair makes tie bars to suit multiple applications such as Bravo, Alpha, TRS and other tie bars like those designed around hydraulic steering kits designed for use on systems that have rams mounted on the inboard bracket. Note any tie bar longer than 36″ will require a custom quote.
---
Custom Tie Bars
---